Heliski Lodging and Dining
In North Pacific Heliskiing we understand the importance of having a comfortable place to lay your head at night after a long day of skiing or riding. We offer 2 different locations in Kamchatka to suit your group's needs. Timonovsky Lodge - our main base of operations, is used for our Classic, Kamchatka Discovery and Steep Skiing programmes, and located in 30 minutes helicopter flight, in the heart of Ganalsky Range. Wood&Thermal Lodge is used for our Private programmes as well as other programmes while main lodge is already busy. It is located in Paratunka valley, close to the roads and infrastructure, just in 40 minutes of minivan riding from Petropavlovsk airport.
Each location has its own unique character, and we took care of all the fine details to make sure your stay is as comfortable as possible.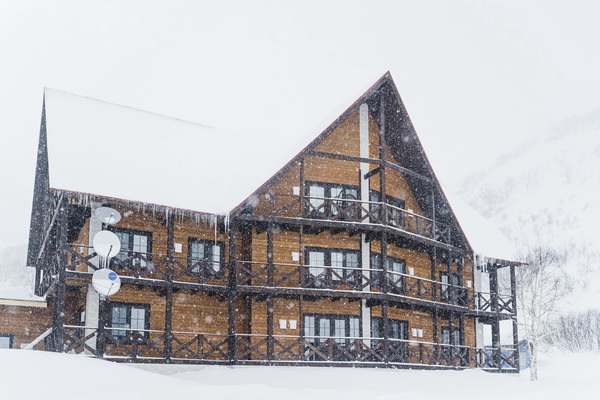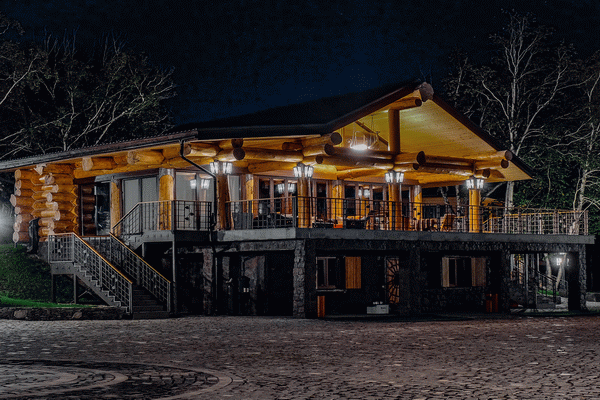 Timonovsky Lodge
The Lodge is situated in the picturesque valley of Avacha river, surrounded by mountains and volcanoes of Eastern range.
Timonovsky Lodge has a long history, and since early 90's it was a simple mountain hut. Few years ago company who owned the place decided to rebuild it to a modern mountain lodge. The construction was made with highest eco standards, to make the place not just nice and cosy but also minimize disturbing the wilderness of the area. The Lodge is run with modern ecological standards, such as solar energy, and waste-free production.
Lodge facilities are:
Cosy rooms, spacious lounge and restaurant with mountain view
Two types of thermal outdoor pools, one is in front of lodge and another small in few minutes walk
Yoga room
Massage room
SPA
Russian Banya
Last but not least - internet is available
---
There are 11 rooms of three different types, each with personal micro-climate system.
Standard or Superior room is included in your package.
Wood&Thermal Lodge
The Wood&Thermal is located in Paratunka river valley, close to the roads and infrastructure, just in 40 minutes of minivan riding from Petropavlovsk airport.
There are 9 spacious rooms, each with unique design and atmosphere. Three of them are double rooms and six are single rooms. The lodge is very well equipped, offering a high standard of comfort to make your stay as pleasant as possible. Behind the log walls of the Wood&Thermal, you'll find a spacious dining room, a lounge, sauna, gym, billiard room and even private cinema. There are thermal pool and barbecue area outside, as well as helipad just in front of the lodge.
Dining
What is the most important after a long day of heliskiing? We believe, this is a delicious and nourishing meal. This important part of your heliskiing experience will be handled by our experienced chef and kitchen staff.
The focus is made on high quality Kamchatka ingredients such as reindeer (venison), fresh fish, Kamchatka king crab, seafood, local plants and berries and anything what nature provides in the region. Those with special dietary needs will not have to worry, for our chef is well versed in the ways of various diets.
Breakfast
It is important to start the day right and the first meal of the day should not be skipped. Breakfast includes a large variety of options from muesli, yogurt, fruit and berries to freshly baked breads, different kinds of eggs and traditional Russian bliny.
Lunch in the field
Lunch tastes better outside, and is typically eaten in a well-chosen picnic spot while out skiing. Our big lunch box includes delicious soups, sandwiches, smoked Kamchatka salmon, tea, coffee and plenty of snacks to keep you fueled for skiing and snowboarding.
Once per week we may run a little barbecue party in a picturesque place like a Pacific Ocean coast.
Après
At the end of the day we invite everyone to try apré ski snacks along with hot soups and cold drinks.
Main Courses
Our talented chef will take good care of you, serving 3 course dinners along with our kitchen staff. Evenings are spent in the dining area where we feast on local dishes focusing on fish, seafood, venison and local plants and vegetables, followed by traditional Russian desserts.
Beverages
At our bar we have a good selection of locally brewed beer along with spirits and wine. The refrigerators throughout the property are always well stocked with a selection of mineral water, juice and beer.